Breaking News




Where to find COVID-19 Update Information

JCTA Members:

Check the JCTA NEWS

for Educator and Parent Resources related to the COVID -19 Crisis.

Go to the JCTA Website "Members Area" Section

for Union updates, resources, and other helpful information related to the COVID-19 Crisis.
---
---
Your help is CRITICAL to see JCPS gets the funding it needs!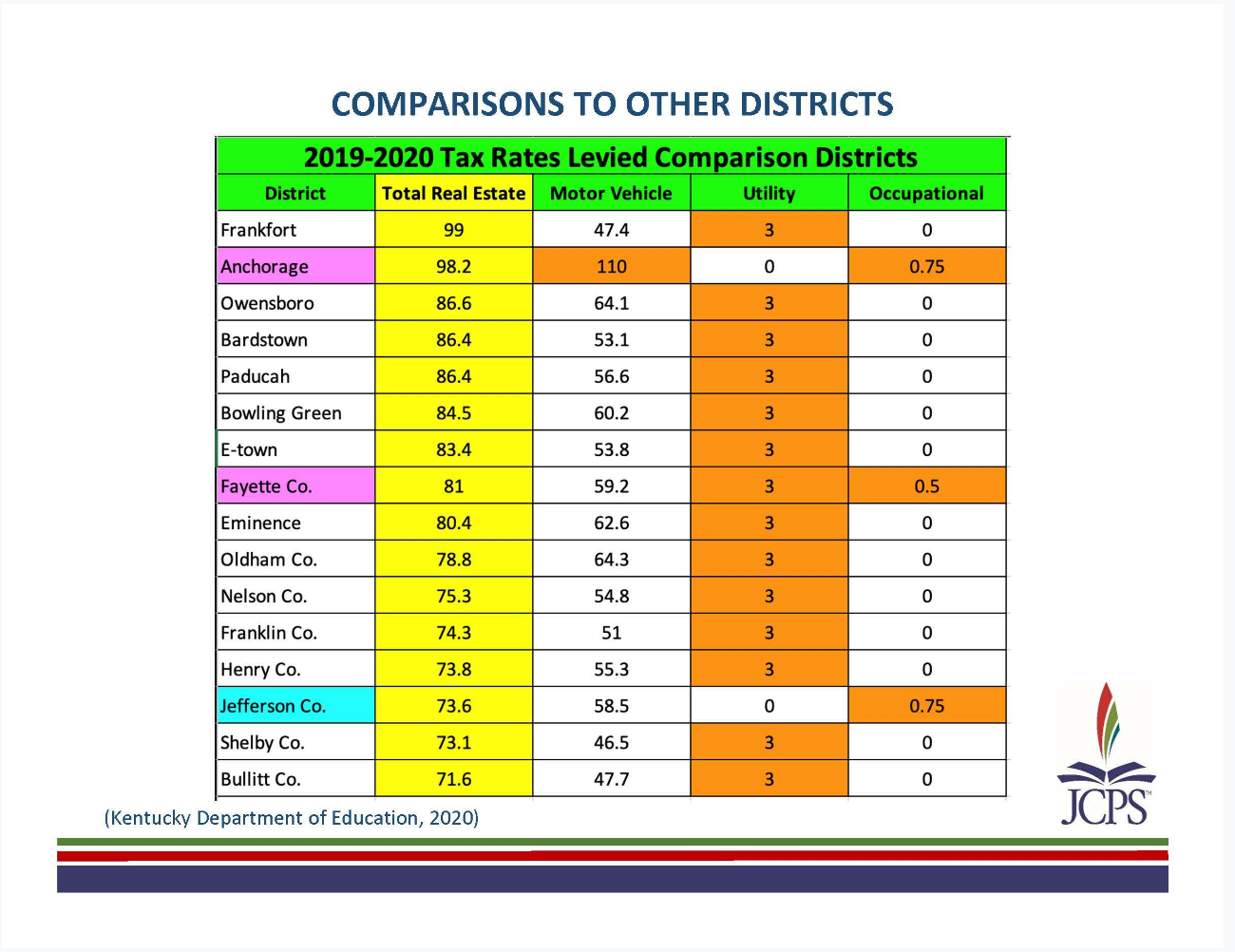 On Thursday, May 21st, the Jefferson County Board of Education (JCBE) took a significant step towards investing in Kentucky's largest school system. Board members say the action taken at Thursday's special meeting allows for Jefferson County Public Schools (JCPS) to create educational equity for all students, build new facilities and further support teachers.

The latest move by the board includes the approval of a plan that will generate more than $50 million a year for the district. The money would replace the $52.5 million in state funding that was reallocated since 2015 to other districts as a part of Kentucky's funding formula for schools.

JCPS Superintendent Dr. Marty Pollio presented his vision for the district and how the resources could be used. Right now the district has more than a billion dollars in unmet facility needs. The additional funds will also give JCPS the capacity to renovate and build new state-of-the-art facilities that board members say will help enhance instruction.

The funds could also help create a smooth transition to proposed changes in the student assignment plan. A part of the proposed changes include giving students in West Louisville an option to attend school close to home or travel outside their community. In order to do this, it would require the construction of two new middle schools ($64 million) and a new high school ($74 million) in West Louisville.

The additional revenue would also give JCPS the opportunity to:
renovate four new magnet schools (est. $68 million);
double the amount of school renovations per year ($50 million);
Increase annual facility improvements ($12 million);
renovate high school athletic facilities ($25 million);
significantly improve educator pay to attract and keep the best teachers
extend instructional time;
and enhance leadership development.

It is urgent that JCTA members encourage their family and neighbors to support this initiative to help the students and schools of JCPS. Share the info on your personal website or Facebook page and in your neighborhood app/website/Facebook page and ask others to do the same. Remember the following as you are sharing:
Currently, JCPS has a lower property tax rate than many surrounding counties and the district had not explored any other options for additional revenue in the past. JCBE members authorized a property tax increase of 7 cents bringing the total tax rate to 80.6 cents for every $100 of assessed property value. For a homeowner, that equals a $70 increase on taxes for a home assessed at $100,000.
Jefferson County Public Schools is not receiving the same amount of funds as we did in previous years. Since 2015, $52.5 million in revenue from the state has shifted to other districts. The responsibility and burden of making up this difference rests with us.
JCPS has more than a billion dollars in facility needs and has more than 30 buildings that have end of life HVAC systems. The last high school was built 50 years ago and that was Ballard High School where the football stadium was condemned in 2019 because it was no longer structurally sound. Having innovative spaces that lead to forward thinking curriculum will only help our students better prepare for jobs of the future and continue to make Louisville the economic engine for the state and the region. Fayette County has built 5 new schools and renovated 21 of their schools in the past 12 years.
We must ensure there is educational equity for all students and close the opportunity gap. In order to do this we need additional resources for technology and increased instructional time to ensure our students have the tools to succeed.
The impact on a homeowner with a $200,000 home is only about 38 cents per day.
When taxpayers invest in improving their neighborhood schools, they invest in improving their own property values. This is a win-win for everyone!



---
2020 PRIMARY ENDORSEMENTS
Be sure to Vote in the 2020 Kentucky Primary Election
Primary Election Date: Tuesday, June 23, 2020
Click Here to Register to Vote
The deadline to register online to vote in the 2020 Primary Election is May 26, 2020 no later than 4:00 p.m. local time.
Contact your County Clerk's office to apply for your Absentee Ballot Due to Medical Emergency/COVID 19
You must request an Application for a Mail-in Absentee Ballot prior to receiving an actual Absentee Ballot.
Jefferson County Clerk Deadline is June 15, 2020 no later than 11:59 p.m. local time. (click here)
Other Counties should contact their County Clerk's office for details & deadlines.
KENTUCKY SENATE
KENTUCKY HOUSE OF REPRESENTATIVES
LOUISVILLE METRO COUNCIL
---
EdDPrograms.org Offers Doctorate Opportunities
EdDPrograms.org is owned and operated by a group that has been creating post-secondary education resources since 2008. This organization's work in teacher education began with projects ranging from a new teacher survival guide to their own teacher education scholarship program. They are now focused on supporting Doctor of Education (EdD) students through their new project, EdDPrograms.org. Here are some helpful links for Doctoral students:

- A detailed overview of the most affordable online Ed.D. programs - https://www.eddprograms.org/schools/affordable-online-doctor-of-education-programs/

- A comprehensive guide to Ed.D. programs in Kentucky - https://www.eddprograms.org/schools/kentucky/

---
The JCPS Culture and Climate Department has created many resources to not only help students, but also staff and parents. Here they are in a quick and easy, one-stop-shop: a variety of resources all bundled together!
---
COVID-19
Resources for Educators/Parents
---
General Coronavirus Information and Resources
Resources for Teaching and Learning
Other Resources
How to Talk to Children About the Coronavirus - Resources for Parents
This can be a very stressful, confusing and uncertain time for everyone, but it can be an especially scary time for children. Here are great resources about how you can talk to kids about the virus and the response.
Kentucky COVID-19 resources:
---

---
NEA Member Benefits has expedited the launch of a new discount program for NEA members with Office Depot/OfficeMax, one of the leading purveyors of school and office supplies. This is in response to NEA members' expressed needs for computer equipment, peripherals, and associated supplies as many educators are required to set up remote teaching and communication capabilities while schools are closed due to COVID-19.

Key features of the Office Depot/OfficeMax discount program include:

· Discounts of up to 75% off on thousands of items purchased in-store and online
· Discounts on printing and copying services
· Free shipping for online orders over $50
· Best pricing: members receive the deepest discount available on their products—whether offered in-store or online
· Family members are also eligible to participate in this discount program

Information about the program is available on the NEA Member Benefits website at: https://www.neamb.com/products/nea-office-depot-officemax-discount-program.

Note: This national partnership does not supersede existing state affiliate agreements with Office Depot/OfficeMax.

---
California Casualty's Response to COVID-19
California Casualty is dedicated to preserving the health and safety of KEA Members and our employees. We are monitoring this ever-changing public health situation by the hour. This is an unprecedented time for everyone - a time that, for many, is filled with uncertainty. Our hearts and thoughts go out to each and every one of you.
Our primary focus is to minimize disruptions to our policyholders as we respond to concerns about the spread of Coronavirus (COVID-19). California Casualty remains committed to doing everything we can to serve your members, while keeping our employees safe.

KEA Members can expect to continue to receive excellent service from California Casualty. Click HERE for more information.
---
JCTA Members:
Check the JCTA NEWS

for Educator and Parent Resources related to the COVID -19 Crisis.
Go to the JCTA Website "Members Area" Section

for Union updates, resources, and other helpful information related to the COVID-19 Crisis.
---
JCTA President's Update re: Current Situation (3.16.2020)
Last week, Dr. Pollio held a press conference and responded to media questions. At the press conference he said during the next two weeks JCPS will be following a snow day protocol, which means that unless you are directly instructed otherwise, the next two weeks will be just the same for teacher as if the district had closed due to snow.

If any of this changes, the district will have to provide specific guidance to everyone and they will have to work out any contractual details with JCTA. We do not anticipate that being the case during the next two weeks.


---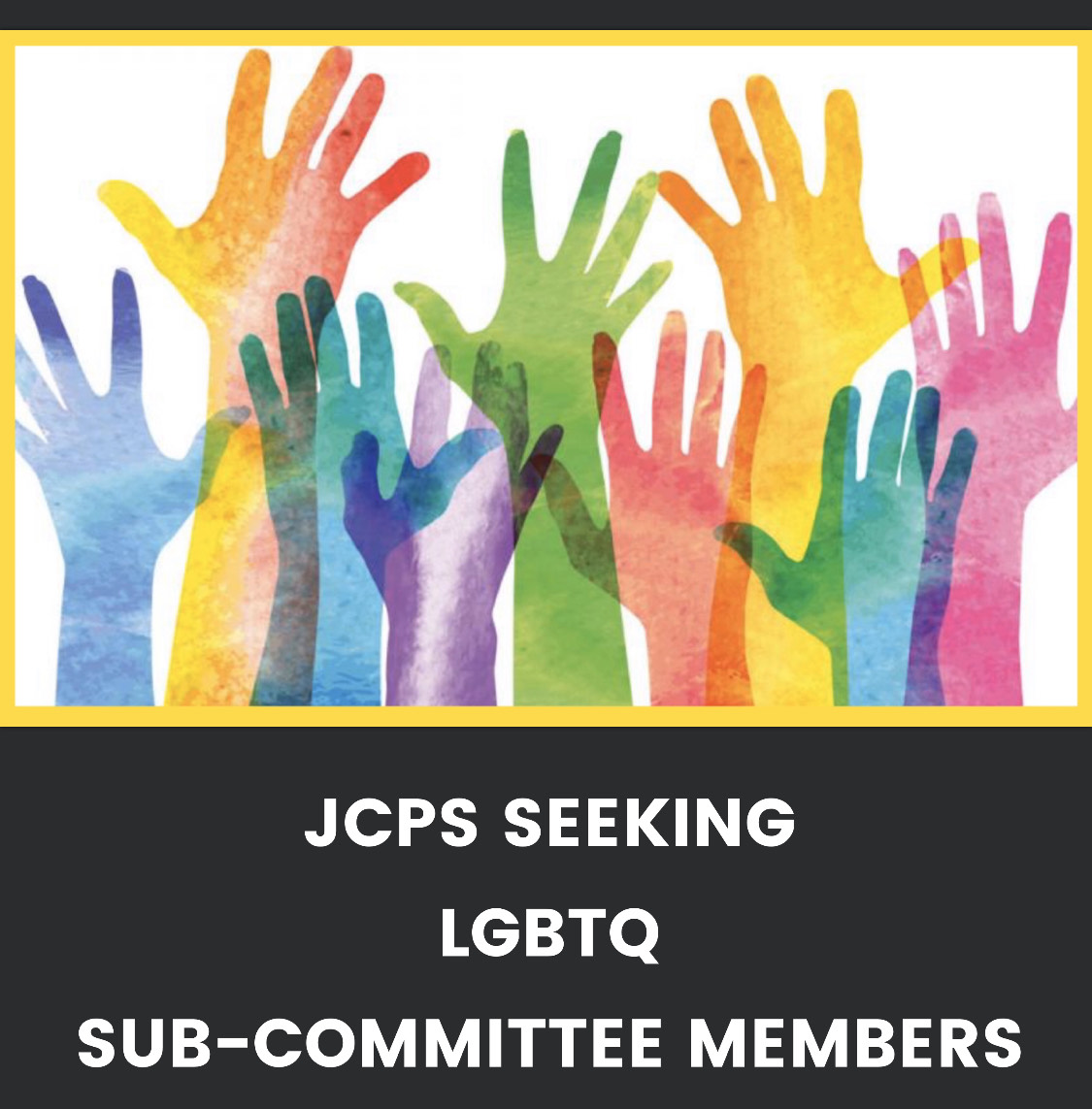 Jefferson County Public School district is continuing to promote equal opportunities. As a result, a LGBTQ Advisory Committee was formed to provide perspective to JCPS related to LGBTQ matters impacting students, parents, faculty, staff, and other constituents. Advisory Committee chairs invite interested individuals to join the following sub-committees: Best Practices, Training, and Student Supports.

A brief description of each sub-committee is provided below. Members are sought who are passionate, purposeful, and can work well on a team to move forward in positive direction. If interested in joining one of the sub-committees or for further information, please contact Dr. Monica Lakhwani at monica.lakhwani@jefferson.kyschools.us


Best Practices Sub-Committee - this group is about understanding state and national best practices as it relates to LGBTQ issues, from district practices to school procedures. We will be locating resources, suggesting language and best practices, and identifying where support may still be needed. This may include suggestions on practices to put in place locally based on what may already be in place within our school district and/or elsewhere in schools and districts that work to support LGBTQ students, staff, and families.
Training and Curriculum Development Sub-Committee - this group's focus will be on identifying training and professional development needs within the district regarding LGBTQ issues. We will collaborate with others to develop and provide appropriate training opportunities to help support our LGBTQ students, staff, and families. These may include topics such as positive school culture, building resilience, and embracing diversity of all kinds. Additionally, this group would investigate ways to make curricula (literature, science, social studies, history, psychology, health/sex education, etc.) more inclusive of LGBTQ individuals.
Student Supports Sub-Committee – The focus of the Student Support Subcommittee centers on supporting the needs of JCPS students who identify as LGBTQ as well as those students who support LGBTQ students, friends, and family members. This subcommittee will work with schools and other agencies to collect data on issues faced by students who identify as LGBTQ, so as to drive the decision making and actions of this subcommittee. Foreseeable actions of this subcommittee may include, but are not limited to, supporting JCPS GSAs/Alliances, developing student leadership and voice within JCPS, developing partnerships with community members that support JCPS students, etc. Students will actively participate in this subcommittee, from providing perspectives and ideas to planning and implementation.
---
The Census is coming. Are you ready?
The 2020 census is THE most important thing that will happen this year. Why you ask? The data collected during the census will help determine Congressional districting and federal funding levels for housing, healthcare, transportation, employment, and public education for the next ten years. With $675 Billion in federal funding at stake, it's crucial that we get a fair and accurate count of every person.

The 2010 count came up short.
An estimated 1 million pre-school aged children were undercounted during the last census. Those children are in our public schools now, and our schools are not receiving the federal funding allotment for them. Undercounting our children, especially our pre-school children, is a costly mistake that we cannot afford.

How can we make sure that every child is counted?
We need every family to fill out their census form. Filling out the census is safe and confidential. Federal law protects your census responses. The information you provide can only be used to compile statistics. Your information may not be shared with immigration or law enforcement agencies, and it may not be used to determine your eligibility for government benefits.
How and when will the Census take place?
Census forms will be mailed to every US address beginning on March 1, 2020. You can complete your census using the standard mail-in form, you can complete it online at www.2020census.gov, or you can complete it by phone. Beginning April 9, In-Field Address Canvassers will begin door-to-door canvassing of residences that have not yet responded to the census. These In-Field Address Canvassers will be available to assist you in person if you have trouble filling out your census.
How can educators get involved?
Participate in SIS Week:

As teachers, you can educate children and parents about the importance of the 2020 Census. You can be part of the national Get Out the Count movement by participating in Statistics in Schools week, March 2 - 6. Visit

https://www.census.gov/schools

to find materials and activities you can use in your classroom. Now's the time to plan ahead. How will you teach your students about the census?
Enter the SIS Sweepstakes for a chance to win $500:

Kentucky Youth Advocates is excited to announce the second

Statistics in Schools Sweepstakes

, a free and easy way for Kentucky teachers to help their school win $500 by using the U.S. Census Bureau's

Statistics in Schools (SIS) materials

during the Bureau's SIS Week (

March 2-6, 2020

).

Four $500 checks

will be given to winning schools – one for a

Preschool/Kindergarten

program, one for

grades 1-5

, one for

grades 6-8

, and one for

grades 9-12

. An additional $500 prize will be awarded to a Jefferson County public school that utilizes the Bureau's ELL materials. All you have to do to enter is submit photos or videos of your students using the SIS materials during SIS Week (March 2-6, 2020).
For more information as it becomes available, follow us on the VOTE blog at https://edvotejcta.com/we-count-kentucky/.
---
Calling All Student Artists for illustrations for an upcoming children's book:

BLUEGRASS BOLD: STORIES OF KENTUCKY WOMEN
A children's book of Kentucky's bold civic leaders, past and present, illustrated by Kentucky artists. See more at http://bluegrassbold.com/; See the full
Call for Artists here.


Bluegrass Bold will showcase women of Kentucky who actively contributed to bettering the Bluegrass and beyond. Profiling a diverse group of Kentuckians, each page provides a brief story of the individual, coupled with a portrait created by a Kentucky artist.


Eligibility:


Because the project gives voice to Kentucky women that have largely been left out of the history books, the authors also want to lift up the women artists that are helping to shape the art and culture of our state. Professionals or pre-professional, young and old, let's see your work!


The authors are encouraging contributions from diverse female artists. Because Bluegrass Bold will tell an inclusive story of Kentucky, we also want to ensure that artists involved in the project reflect the diversity of the women featured in this book.

Eligible artists must be women living in, or have a history with, Kentucky. K-12 students are encouraged to apply!
---

Your Voice, Our Future...Get Involved, Starting Today!
Right now, candidates are deciding which issues they'll run on. Let's make sure public education is at the top of their agenda. The first step to getting involved is to click this link: Strongpublicschools.org