Breaking News




JCTA Public Statement on Recent Protests

JCTA Public Statement on Recent Protests:

The Jefferson County Teachers Association stands in solidarity with people of color and those in our community, and across the nation, who are peacefully protesting in support of justice for the families of Breonna Taylor, George Floyd, and other people of color who have lost their lives at the hands of those who should be protecting them from harm. JCTA adds its voice to the call for immediate concrete steps to address structural and institutional racism in our communities, including our law enforcement agencies, our systems of education, neighborhood resources, economic opportunities, and our legal system. JCTA affirms its belief in the democratic rights of citizens to organize and demonstrate for change and condemns the use of violence on all sides during such demonstrations. As educators, we know that students cannot learn if they live in a constant state of fear for themselves, their family members, and their friends and neighbors, and we understand that our belief that every student can learn is undermined when young people are forced to live with fear, inequity, and bigotry.

---
NEA RA Elections Extended through April 17, 2020
---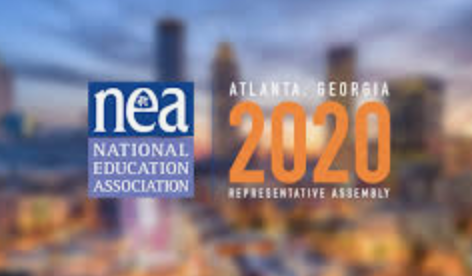 From KEA President Eddie Campbell:
Dear Member:

Election for statewide delegates to the NEA RA is extended through Friday, April 17th

Each year, KEA Active members across the state elect some of their colleagues to represent them at the NEA Representative Assembly, which is scheduled to occur in Atlanta, July 1 through 6. The NEA Representative Assembly brings together elected representatives from every state in the nation to elect national union leaders and to determine NEA's course of action over the next year.
Now more than ever, it's important for you to elect representation to the NEA RA that will carry your concerns to your national union. Please take this important opportunity to let your voice be heard in the governance of your national affiliate.

The election for KEA's statewide delegates to the 2020 NEA Representative Assembly is now open and will remain open through Friday, April 17th at 11:59 p.m. (EDT). All Active KEA members are eligible to participate in this statewide, online election. (KEA Retired and Aspiring Educators elect their delegates separately.)
An individualized voter code was included above your name and address on your copy of the March 2020 KEA News. If you did not receive a copy of the KEA News, no longer have your copy of your KEA News, or did not receiv
a voter code and you are an Active member, call 1-866-384-9978 to obtain a code.
Active members with a valid code can vote by visiting www.KEAVotes.com before Friday, April 17th at 11:59 p.m. (EDT). To request a paper ballot or if you need assistance with the online voting process, call 1-866-384-9978 or email help+KEA@yeselections.com.